Westside Realty Group - Beverly Glen Realty currently manages three Airbnb/Vrbo properties - two in Bel Air, and one in Lake Arrowhead. Contact us to manage yours and click the links below to book a stay.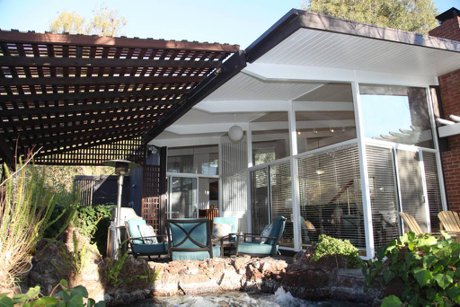 For lovers of tranquility and privacy this is the perfect Bill Mack house at the end of an idyllic Lane street in Bel Air's highly desirable Beverly Glen Canyon. This 1,367 square foot home with spacious living areas opens to an outdoor area with hot tub and endless Canyon vistas. Offering two bedrooms and two upgraded bathrooms with natural light a plenty - this home has central HVAC and all appliances. Two car garage. Short drive to local shops, restaurants, jazz club and Starbucks!
"My wife and I loved staying in Seabury Sunrise. It was perfect for two couples. Besides being very comfortable, the house has architectural interest. The design of the house allows light to fill the living area, and the views from the living room and master bedroom are spectacular. Both bathrooms are beautiful, and the kitchen is just fine. We would stay in the house again with no reservations." Airbnb Review Feb 2019
'It's a spotlessly clean, beautiful home tucked away in the hills up away from the busy cities in the valley below. Comfortable beds awaited us after our trip to Santa Monica Pier. A few minutes away are Hollywood, The Walk of Fame and Universal Studios. The home is miles away in terms of privacy and peacefulness. Stocked well with the necessities. It was a perfect place to unwind following our busy days of sightseeing and beach cruising. The built in hot tub is wonderful.The owners do a fantastic job with the decorating and maintenance. The BEST value in the area. You won't regret it." Airbnb Review Sep 2018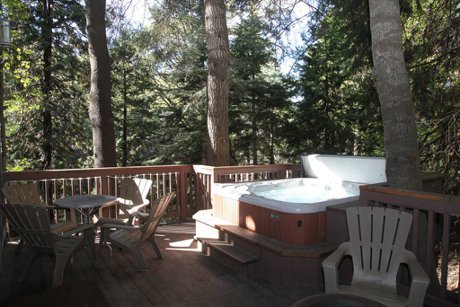 Privacy is redefined in this peaceful and secluded Lake Arrowhead custom home on double lot w/ babbling brook below. Located in Arrowhead Villas with Guest Passes to Private Lake Arrowhead Beach Clubs and Parks. Just a stone's throw to the historic Tudor House Restaurant & Theater. Minutes to Lake Arrowhead Village, Beach Clubs and Resort. 3 Bedrooms plus 4 Bathrooms (2 Full & 2 Half) spread over 1,600 square feet make this the perfect home to spread out and relax.
"This is a great house, nestled in the trees! You can hear the babbling brook below the house from all floors. Really a great place to get away for a few days." Airbnb Review May 2019
"This place is even more magical than the photos! Nestled in the woods. The sound of the babbling brook. The perfect place for families to get away and make some memories." Airbnb Review Apr 2019
"Steven and Michelle's home was absolutely amazing! The location and privacy was more than we could have hoped for. The jacuzzi was amazing and we tried to be in it as much as possible. The home is also about 10min away from the village and the lake. All the rooms were spotless and all the porches had awesome views! We definitely recommend and will return!" Airbnb Review Mar 2019
"Beautiful place to stay, check-in/out was really easy, the hosts responded quickly and made the process very simple. The house is super cozy yet spacious and is situated in a great location. I highly recommend staying at Steven & Michelle's place." Airbnb Review Jan 2019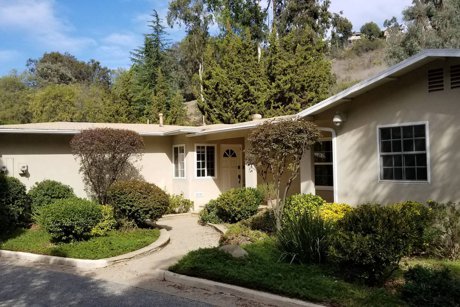 Located in Bel Air's Beverly Glen Canyon sits this single level 2,100 sq ft home on a ¼ acre lot. Gated circular driveway affords ample privacy from the street. Inside are oversized public spaces including formal dining and living rooms. There are two bedrooms; each has sufficient closet space. There is a remodeled full bathroom in the bedroom hallway. The kitchen will meet any gourmet chef's needs. Property features fenced-in yard with a separate locked off dog area.
"The Beverly Glen house will exceed your expectations! It is fully stocked, immaculate, spacious, full of thoughtful touches, a great location, private gates, and a huge backyard for kids with a private dog park for your fur babies. We absolutely loved every minute of our stay, and hope to return! Also, the management team is very friendly and accommodating." Airbnb Review Apr 2019
"Steven & Michelle's place was amazing. Great location if you're looking to explore the many different areas of LA. Super clean and very spacious! Can't say enough great things about staying here and 10/10 would recommend." Airbnb Review Mar 2019
"This house is not a place to overlook. Sparkling clean, beautiful location, amenities for everything you could possibly need and fast responses from an amazing host. LA was a blast with this house since it was in a quiet neighborhood just 5 minutes away from the major roads to get your daily adventures started." Airbnb Review Jan 2019
"My friend and I spent a week… and found it to be a great place. The location was very safe and the amenities were great. Whenever I had a question, it would be answered quickly. Thank you for a wonderful stay." Airbnb Review Jan 2019
"Perfect for being away from the city but still being in the middle of it all, the only way to understand is to experience LA from this very convenient location." Airbnb Review Dec 2018